Hmm what to say about all of this? I can say that it does suck to be all the way over here and be knocked out. My little romantic heart was wishing for a miracle but unfortunately things didn't go our way this time. A win is what we needed and the boys did really well to do that, but in the end it was a bit of a stretch to hope for Germany to pump Ghana like they did us.
Post-match everyone was quite relaxed. There weren't too many sad faces and everyone was happy to celebrate the win against the Serbs regardless. A few were looking for answers. Was it the ref? Maybe Pim? Some of the players? Are they too old? Were we just not good enough? No point blaming anything or anyone. There are far too many factors involved to go pinning down something in particular, it could have just as easily gone the other way, say if Ghana beat Germany by just one goal, then everyone would shut up and not even think of who to blame! Football is fickle. It's here to entertain us, the show finished a little sooner than we wished, but I was entertained nonetheless!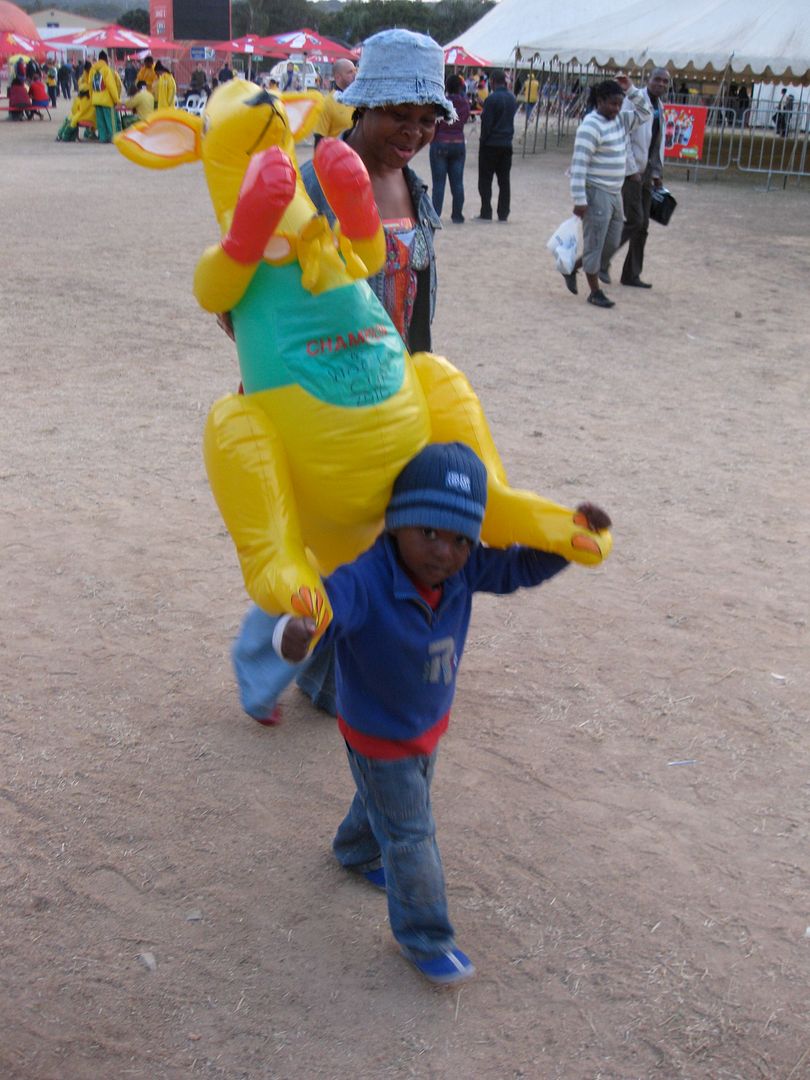 A relative of Shazza! Someone seemed to have donated their Kangaroo to this kiddy.
Nelspruit was quite a neat little town. They did their best to put on a good show and blitzed Rustenburg by a long way. It felt like they were actually expecting people to be in their town! Transport was better and people were more friendly and welcoming.
The stadium was nice and intimate, the seating was so close to the sideline, the subs hardly had enough room to warm-up on the edge. The atmosphere was very Aussie orientated with big panels of Gold and Green and very few Serbians to be seen. Slight setback getting food and drinks, partly the Australians' fault, due to Aussies throwing (plastic) bottles of beer onto the ground in Rustenburg all the beer had to be poured into cups which made getting beer a 20-30 minute wait before kickoff and at half time. So thanks to those spaz's for contributing to that! Our two goals came in quick succession and the Aussie fans were suddenly alive and well, this is what we came to see! The block I was in was abuzz with text messages in reporting from the Germany/Ghana game. We had a chance!! I was about 15 seats away from the Aussie bench, Pim was yelling back to his crew in the first row, rather keen to know the score as well.
Made a habit of running into SBS presenters of my youth; Stephanie Brantz and Simon Hill
This guy begged me to take a picture of him! So had to put him on!
Another highlight which I failed to capture, but will never leave my mind was the erratic Serbian bench. Every ref whistle or chance they had on goal in the last 20 minutes of the game made for hilarious bench watching. All 15 or so, coach, managers, assistants, players etc would jump up and go absolutely mental, throwing their hands up and jumping, hitting, kicking anything they could see. At one point, when they had one good chance, the whole lot of the subs basically ran down the sideline alongside their striker screaming and yelling, willing the ball to get in the net. The poor sideline ref whose job was to calm the benches down had a difficult time.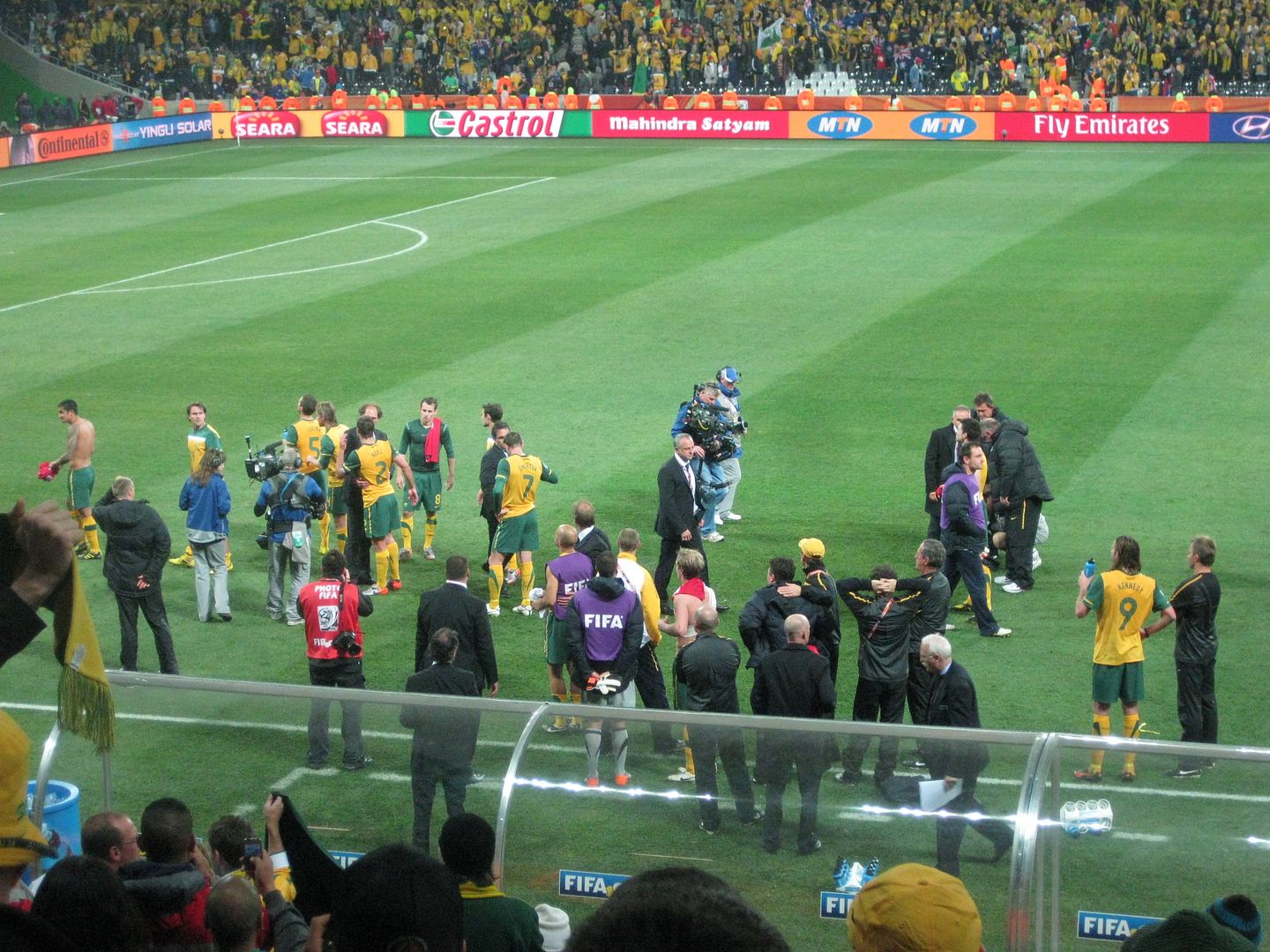 Anyway, that is that. We're out. I think we've had a pretty good run considering and can look forward to some new fresh players coming through for the Asian Cup.