Well thank the Football Gods that we're outta there… Now, I remember at the start of the journey pointing out that I would come across some beautiful but also some ugly events here in South Africa. I can confirm that Rustenburg, for the larger part was unfortunately the latter of the two.
On the way to the stadium
Somehow things just didn't quite connect in the town. The locals and even event staff didn't really know what was what and we were often sent on little detours around the town, at times getting 3 different directions for the one location. Getting to the stadium was a shambles. We knew we had to find the 'Park and Ride' but there was little signage to be seen. Plus no public transport at all. We got there in the end. We found the stadium a fair way out of town, strangely juxtaposed around a suburb of small shanty town homes with corrugated iron walls and not much else.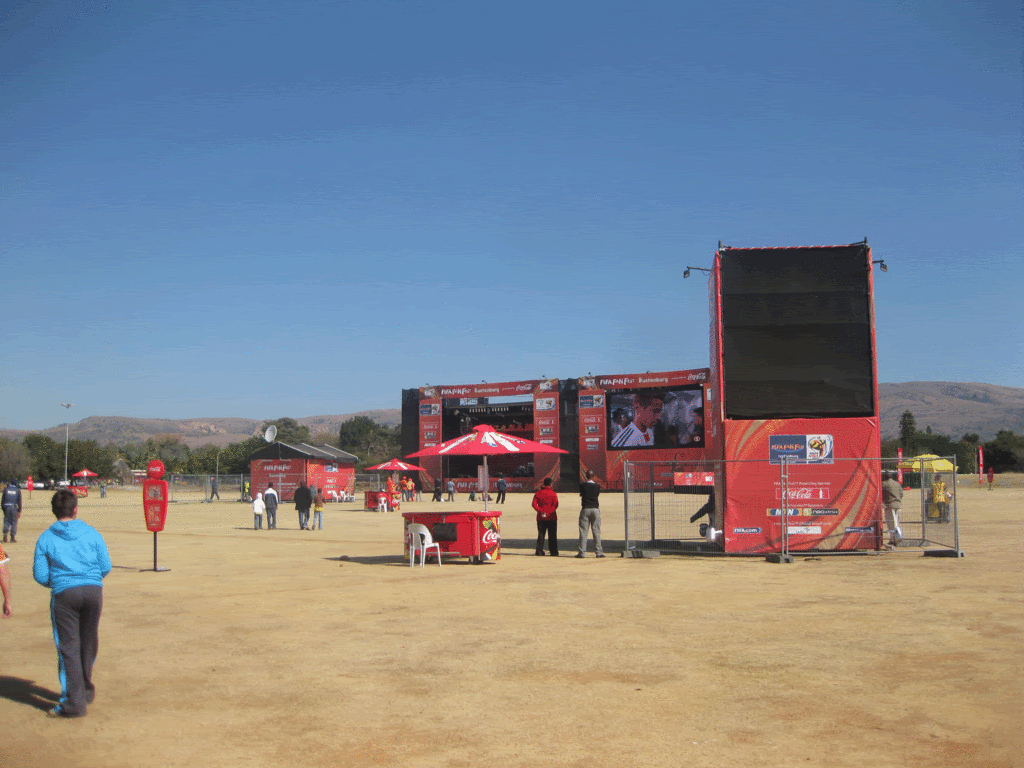 Rustenburg Fifa Fan Fest before GHANA vs AUS. This place should have been full... = bad planning!
Now, to the game, quite beautiful in parts, but ultimately such a disappointment. The Aussie fans were once again in full bloom, taking over the stadium and trying to take over the Vuvuzelas. Our first 2010 World Cup goal by Holman was a huge relief, even if it was from a set piece I was very glad to see it happen! Then came the slimy wretched red card for Kewell's 'shoulder ball'. Strange that it is once again an Italian that causes Australia such unjust misery. I feel that they are conspiring against us. In the stadium it's always confusing to figure out exactly what has happened because they don't play replays as to not stir up the crowd when a big decision is made. In came the report text message from Mum back home to say it looked pretty suss. The Aussie fans were livid. Budweiser beer bombs hurling onto the ground was not a pretty sight…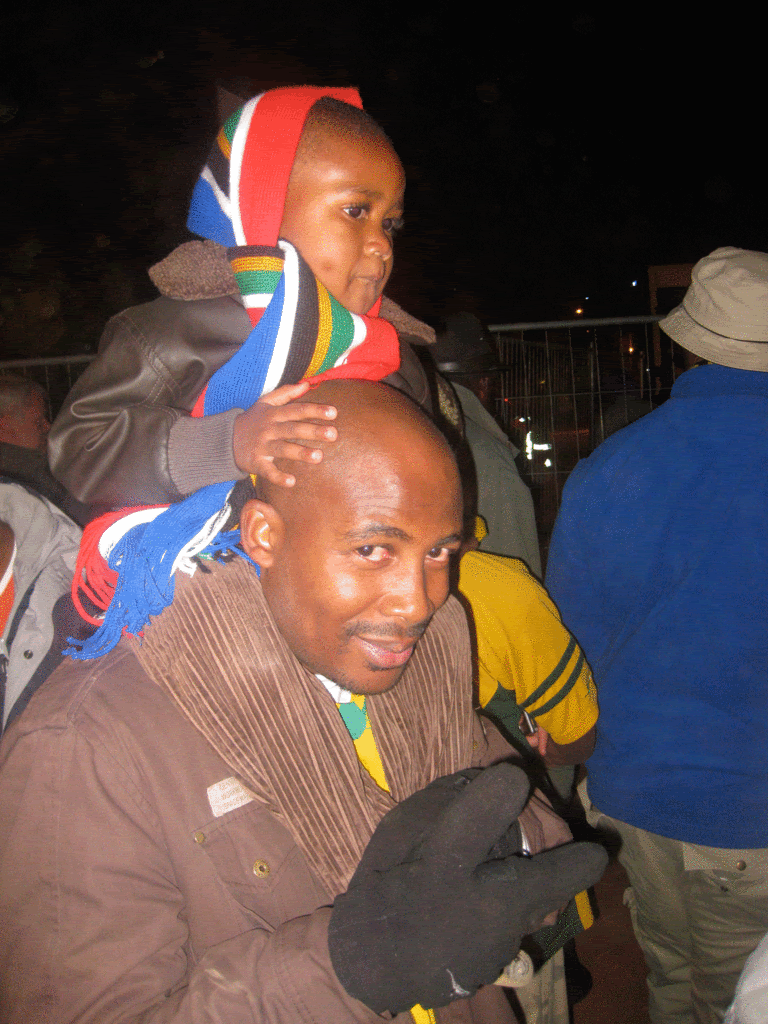 Found Andrew Orsatti, ex-SBS reporter, works for ESPN in the US now.
Instead of being glum bums we got a bunch of the Aussies together and found a bar that was a tip off from a local. We found ourselves deep in thick and sticky Afrikaans White Supremacist, Rugby lovin' territory. What fun! The Aussies stuck together and had a good time but it was hard to avoid the constant niggling Yarpies in our ear. I can honestly say we could not have one conversation with them that didn't involve the locals repulsing at the fact that there was a Football World Cup going on (actually, many basically tried to blank it from their minds), or hurling racist remarks in many shapes and forms. Earlier in the day when we asked one guy for directions to the stadium he replied with 'oh, you mean the newly built Rugby stadium?'… Now I have no problem with Rugby, but there is a time and a place and it's probably not at the Football World Cup, try New Zealand next year… It completely baffles me that these people can not embrace the fact that the whole world is coming together to celebrate the World Cup in their country, regardless if they like it or not, it is a beautiful thing.
This is not to say at all that this is a representation of everyone. Many other South Africans we've met have been absolutely charming and helpful, plus many warnings were sent our way that we might experience this type of person in the smaller towns. Every country has them!
To top off a strange 24 hours in Rustenburg our evening was spoilt in a way that maybe we were almost expecting eventually. I won't get right into the gritty, let's just say it was our turn - went out to by a new GPS today amongst other things…. Thankfully my 24 pack of Crayola colours is still securely in my possession.
FREAKIN amazing KIWI pride right here by the way. I'm claiming my half All Whites side to the bank! Soothes the pain from Italy vs Australia back in 2006!
Follow other World Cup lovers!
-Check out Vijay Khurana and Dom Knight's Triple J
'World Cup Safari'
podcasts for World Cup fun of the audio kind.
-The boys from
www.onofficial.com
are also covering the events here in South Africa in a colourful way, follow them for some more fun!